Picking up where we left off ...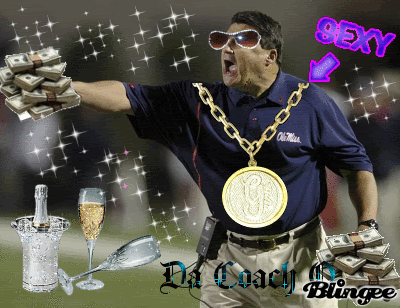 Yeah, like I wasn't getting this out of the JCCW blog closet again as soon as it got appropriate.
DEFENSIVE COORDINATOR
M. Kiffin vs. Roof
I think I'm probably
about as big a believer in Roof
as there is: what he did at Minnesota and in his brief DC tenure at Duke was nothing short of remarkable, and if not everything was perfect at Georgia Tech, at least those defenses trended upwards. I think he was just about the best possible choice for Auburn.
But Monte Kiffin might be the best defensive mind in the sport of football. You might quibble with how much energy he'll have at his age or how readily his players at Tennessee will grasp his NFL-quality schemes (as well as how much patience Kiffin will have with them if they don't), but when it comes to designing a successful defense and calling defensive plays ... I mean, it's not likely to get any better than this, anywhere. Sorry, Ted.
Big Edge
: Tennessee
DEFENSIVE LINE

Orgeron vs. Rocker
No point in trying to dodge the obvious: securing the Orgeron's services was a huge coup for Kiffin. I wouldn't let him within 100 yards of a head coaching position ever again, but tucking away at "defensive line coach" a man whose nationally-recognized obsession with recruiting makes the whole of Rivals look sane is a hell of a move.
That said: after what Tracy Rocker did with the Ole Miss defensive line (which, of course, the Orgeron was ironically responsible for recruiting) this past year, and with guys like Jamaal Anderson at Arkansas, I don't think it's a stretch to say that if Orgeron is more capable of recruiting a new d-line stud, Rocker might be the better of the two at getting the most out of said stud. Add in that Auburn had multiple recruits talk about how much they looked forward to working with Rocker, and ... well, I might be crazy, but I don't think this is totally one-sided.
Edge
: Tennessee
LINEBACKERS
Thompson vs. Roof
I think Roof should do an excellent job with Auburn's linebackers--he's been coaching quality LBs his whole career--but we can't ask what he's adding to the staff when he's already the DC (the same rule applied to Chaney at OL, remember). And Thompson is a huge addition for the Vols--everybody goes nuts over his recruiting, but despite the whining of bitter Tide fans that Thompson won't be missed, 'Bama's linebackers have been the strongest part of that defense for two years running. Unfortunately, this is another heavy advantage for the Vols.
Big Edge
: Tennessee
DEFENSIVE BACKS

Thigpen, Lolley vs. Garza
Tommy Thigpen is pretty clearly the biggest name here, having been stolen away from Butch Davis's staff at North Carolina after helping put together one of the better classes in Tar Heel memory. Filling out the tail end of his defensive staff with a guy who was making a lateral move at best from your once-and-future ACC kings was a big score for Chizik.
That said:
Willie Mack Garza
arrives after having spent four seasons as the defensive coordinator for North Dakota St., one of the brightest up-and-coming programs in I-AA (10-1 in 2007) and a former D-II power. DCing at a program of that caliber isn't anything to sneeze at. I think Thigpen's presence and BCS-level experience gives Auburn the edge, but I'm not sure how wide it really is.
Slight edge
: Auburn
CONCLUSION
Scorecard That Matters a Lot Because This is an Extremely Scientific Process
: Auburn--2x "Big edge," 1x "Slight edge"; Tennessee--2x "Big edge," 1x "Edge," 1.5x "Slight edge." (The .5 is for the "OTHER" edge from yesterday.) If we SCIENTIFCALLY assign 2 points for a big edge, 1 for a regular edge, and .5 for a slight edge, your final tally is Tennessee 5.75, Auburn 4.5. You cannot argue with this finding, because it's SCIENCE.
Comments
: For all my sarcasm, I think that "Tennessee has a little bit better staff on paper than Auburn" really is about where things stand. It's fair to say that Malzahn, Taylor, Luper, and Grimes are a more impressive offensive crew than Chaney, Gran, Wilson, and Cregg; it's probably also fair to say that M. Kiffin, Orgeron, Thompson, and Garza are a
substantially
more impressive crew than Roof, Rocker, Thigpen, and Lolley, even for someone who has all the faith in the world that Roof, Rocker, Thigpen, and Lolley will accomplish some great things. It's worth pointing out that that Vols' staff comes at a much greater financial cost than Auburn's; on a dollar-for-dollar basis, you might call Auburn's better. Even on paper.
In the end, I think, deciding which staff you'd rather have (as a sage commenter pointed out on the previous post) comes down to how much emphasis you put on recruiting and how much you put on player development. I don't have much doubt that Tennessee will recruit a little bit better in the years to come than Auburn will. Kiffin, Orgeron, Thompson, and even guys like Reaves have way too much of a track record to think they're going to strike out on the trail too often.
But with guys like Taylor, Rocker, Roof, and Malzahn, you could argue that Auburn will get more out of its players than the Vols might. Maybe that's not the case on defense, but I don't see where in Kiffin's complicated NFL schemes, Chaney's old Purdue designs, or Reaves's or Wilson's tutelage that the Vols are going to get the most out of their offensive players. Then again, if Kiffin can recruit the second coming of Leinart and Bush, who cares about that?
So we'll see, but even with the slight edge to the Vols on paper, there's reasons both sides can go forward thinking they've come out with the better deal. And both sides will also agree, of course, that with the staffs they've put together that the rest of the SEC had best watch its back in a couple of years.